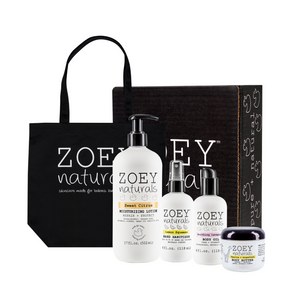 Product Info
Healthy habits start with Mama, we've created this Kit for all new mamas expecting or who just welcomed their new little one into the world. Naturally gentle, super moisturizing, and free of harsh chemicals. Shop smart and save 10%.
Our New Mama Kit includes:
Vanilla Grapefruit Body Butter
Soothing Lavender Body Oil
Sweet Citrus Moisturizing Lotion
Lemon Squeeze Hand Sanitizer
Zoey Naturals Tote
Zoey Naturals is formulated for babies and loved by mamas all around the world. Our effective and gentle formulas are free of harsh chemicals and safe on our environment.